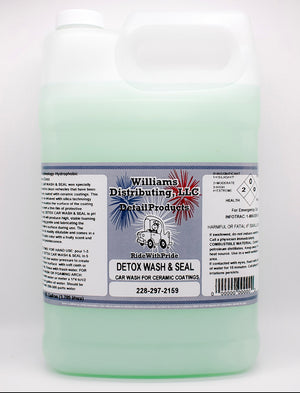 Williams Distributing
Detox Wash & Seal
Sale price Price $24.95 Regular price $26.95 Unit price / per
Detox Wash & Seal was specially formulated to clean vehicles that have been previously coated with ceramic coatings. This shampoo is infused with siO2 technology that will revitalize the surface of the coating and lay down a thin film of the protective technology. Detox Wash & Seal is pH neutral and will produce high, stable foaming while being gentle and lubricating the automobile's surface during use. The shampoo is readily dilutable and comes in a beautiful color with a fruity scent. 
HOW TO USE 

• Dilute 1-3 oz. per 5-gallon pale
• Pre-rinse vehicle to remove loose dirt
• Wash surface with wash mitt or brush and soapy solution
• Dry vehicle with clean chamois
Note: Do Not use this product in direct sunlight. Do Not let this product dry on the surface. Williams Distributing, LLC will not be liable for any loss or damage arising from this product, whether direct, indirect, special, incidental or consequential, regardless of the legal theory asserted, including warranty, contract, negligence or strict liability. Williams Distributing products should always be used as directed. Warning- Keep product out of children's reach.