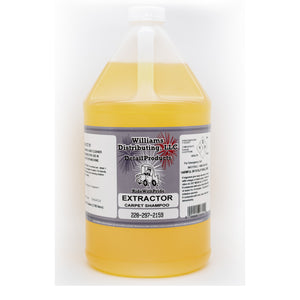 Williams Distributing
Extractor Carpet Shampoo
Sale price Price $29.95 Regular price $31.95 Unit price / per
Extractor Carpet Shampoo is a formula that was specifically designed for the use in extractor carpet machines. Extractor Shampoo is a powerful, low-foaming carpet cleaner that produces amazing results when used with an extractor machine. Extractor Shampoo is highly concentrated and only requires 1-2 oz. per gallon of water.
HOW TO USE
Make sure desired area of cleaning is vacuumed properly before use
Dilute 1-2 oz. of Extractor Carpet Shampoo into the clean water tank 
For heavily soiled areas, more cleaning solution may be added
Williams Distributing, LLC will not be liable for any loss or damage arising from this product, whether direct, indirect, special, incidental or consequential, regardless of the legal theory asserted, including warranty, contract, negligence or strict liability. Williams Distributing products should always be used as directed. Warning- Keep product out of children's reach.