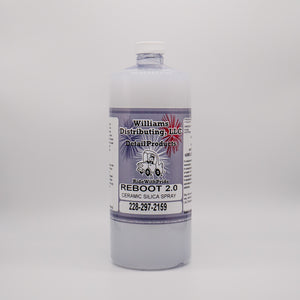 Williams Distributing
Reboot 2.0
Sale price Price $44.95 Regular price $46.95 Unit price / per
Reboot 2.0 is a Silica Spray Sealant that incorporates the durability and hardness of glass in an easy to apply and wipe formula. More than a spray wax, Reboot 2.0 is made with ceramic silica technology that leaves the surface glassy and smooth. Reboot 2.0 leaves paint, chrome, plastic, and glass extremely hydrophobic for 3-6 months.
Reboot was originally designed for use with Jade Ceramic Coatings to maximize the life span of the ceramic coating. Reboot 2.0 is an improved version of the original formula and contains even more active SiO2 to further protect your ceramic coatings. Reboot 2.0 should be applied to Jade ceramic coated vehicles every 3-6 months.

                         HOW TO USE 

• Shake Reboot 2.0 well before using
• Test Reboot 2.0 in an inconspicuous area before applying to the entire vehicle
• Spray vehicle with Reboot 2.0 after washing when the surface is clean, dry, and cool
• Surface should be clean and free of solvents or wax before applying Reboot 2.0
• Spray product on surface and wipe off with a clean, dry microfiber towel
• If product or haze remains, continue wiping with a clean, dry microfiber towel 
Note: Do Not use this product in direct sunlight. Do Not let this product dry on the surface. Williams Distributing, LLC will not be liable for any loss or damage arising from this product, whether direct, indirect, special, incidental or consequential, regardless of the legal theory asserted, including warranty, contract, negligence or strict liability. Williams Distributing products should always be used as directed. Warning- Keep product out of children's reach.