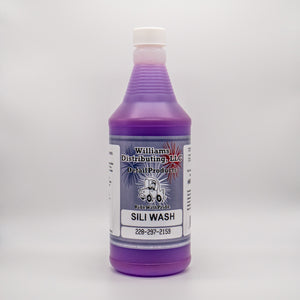 Williams Distributing
Sili Wash
Sale price Price $15.95 Regular price $17.95 Unit price / per
Sili-Wash is a silica-fortified soap designed to enhance the paint of the vehicle while washing it. Sili-Wash is a premium auto wash that provides a durable high-gloss shine, in one easy step. Sili-wash produces a high stable foam, with advanced cleaning agents to remove the toughest road oils and dirt for easy rinsing.
 HOW TO USE
For foaming arch or pressure applications, Sili-Wash can be metered at up to 400 to 1
Dilute 2 to 4 ounces of Sili-Wash in a 5-gallon pail of water
Use a clean wash mitt or brush to apply the soap to the vehicle surface
Rinse product off well
Chamois glass and surfaces to avoid water spotting
 Note: Do use this product in direct sunlight. Do not let this product dry on the surface. Williams Distributing, LLC will not be liable for any loss or damage arising from this product, whether direct, indirect, special, incidental or consequential, regardless of the legal theory asserted, including warranty, contract, negligence or strict liability. Williams Distributing products should always be used as directed. Warning- Keep product out of children's reach.